THE ORIGINAL HOSPITAL GRADE BABY NASAL ASPIRATOR
More Suction, Less Boogers.

LOOK NO FURTHER, YOU FOUND IT!
BoogieBulb® The Original Hospital Grade Baby Nasal Aspirator
Medical Grade Quality
Vacuum Suction Power
Narrow tip & Ridging
1, 2 & 3 oz Sizes Available
Latex & BPA Free
Three Styles Available
Easy to Use
Now Cleanable!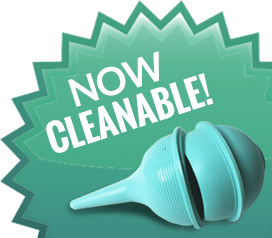 ---

Finally, a cleanable bulb that works!
ORDER NOW FAST, FREE SHIPPING*      Mentioned in Wall Street Journal, 2015
How the BoogieBulb® Nasal Aspirator works
It's as easy as 1, 2, 3 with our hospital quality nasal aspirator! Our step by step guide will thoroughly explain how to properly use our BoogieBulb® nasal aspirator on your baby with ease. We'll even show you how easy the BoogieBulb® nasal aspirator is to clean so you won't have to throw it away after each use!
The BoogieBulb® Nasal Aspirator is Better
Tired of wasting money on nasal aspirators that don't work? They may all look the same, but that doesn't mean they're the "real thing." BoogieBulb® is the original hospital grade baby nasal aspirator known for its medical grade quality and suction power. Stop wasting money on poor quality nose bulbs. Get your BoogieBulb® nasal aspirator now!

---
Many Styles to Accomodate
Your Little One's Needs
---
---
---

BoogieBulb® - The Original Hospital Grade Baby Nasal Aspirator
Copyright © 2008-2016
This information and advice made available through the Baby Nasal Aspirator.com website is not intended to replace the services of a physician, nor does it represent a doctor-patient relationship. The information provided is for informational purposes only and is not a replacement for professional medical advice. You should talk with a physician in all matters relating to your child's health, and particularly in respect to any symptoms that may require diagnosis or medical attention. Any action on your part in response to the information provided in this website is at the reader's discretion. Readers should consult their own physicians concerning the information on this website. Baby Nasal Aspirator.com is not liable for any direct or indirect claim, loss or damage resulting from use of this website and/or any website(s) linked to/from it.